Hope everyone is enjoying their summer! As much as we like kicking back in the August, there is too much we are excited about to let it wait for the Fall! Beth's trip to Dwell on Design created a distinct vibe in the office and the current mood running through BHD is "what's new". What's new in design, what's new in products, what's new in the showroom. Everyone is curious and looking forward to projects that are currently underway and working with client's who are just getting started. Here's to finishing the summer strong and enjoying the freedom summer always seems to bring!
---
Featured BHD Space: Our showroom!
We don't think we've ever made our BHD featured space the showroom before but now that is it getting filled with new furniture pieces, accessories, and art, we thought it was a great time to share the new pieces we have to share!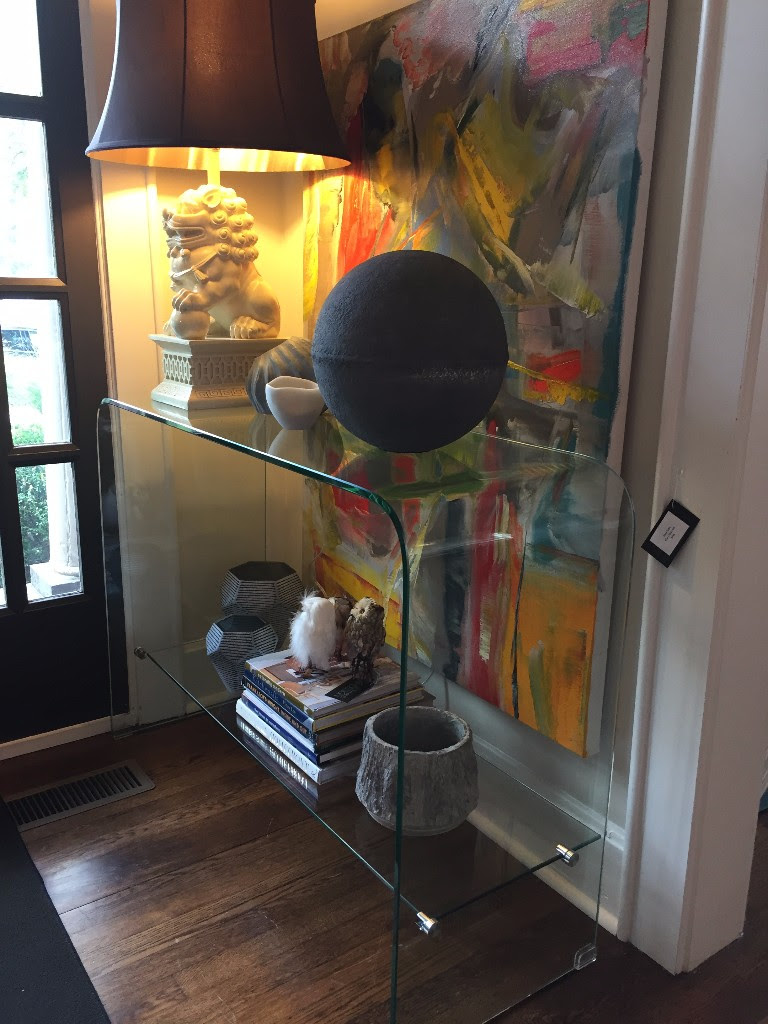 Love the pairing of the minimal curved glass table with the vibrant painting by Yuri Figueroa as the beloved foo dog lamp stands guard over the front door.
We shared this on Instagram last week but we love all the pillows that just arrived and had to share again! Pillows are honestly one of the easiest ways to change the feeling of a space. Some people might be afraid to use assorted prints but this proves you can mix it up! How did we make it work? Keeping the content consistent with botanical prints and varying the scale and combining complementary color families.
We couldn't enough of this gingko print. These have sold but more designs are on their way!
Baskets, planters, and pillows galore! We love the bright colors in Yuri's art hanging over the mantel too!
This sideboard is a show stopper and we love this collection of Yuri's paintings paired with Jerry Atnip's photograph. The long neck, glass and acrylic lamp and the reflective ball sculpture finish off the monochromatic vignette!
Lastly, we have a series of photographs just in from Yuri. The bright colors are energizing the blossoms fresh feel. Just imagine how appreciated these will be when nature takes her winter break!
---
Featured Vendor: Gold Leaf Design Group
Gold Leaf Design is one of our favorite accessories companies. We look towards them time and again for unique pieces. Here is a collection of goodies that just arrived for one of our clients. Coordinated colors yet each item is cool on its own!
---
Featured Event: Tomato Art Fest
We look forward to this event every year. If you've never been before, it is an East Nashville tradition, filled with art, festivities, street vendors, and people watching galore! Costumes are encouraged and we hope to see some familiar faces out and about this weekend!
When: August 12, 6PM – whenever & August 13th, 9am – whenever. Click here for a program of events!
Where: 11th and Woodland is the center of the festival where you can find the Tomato Art Fest information booth. Click here for a complete map of the festivities!
---
Hot Topic: Power of Design
We love when we are reminded of the power of design and its ability to speak volumes through aesthetics alone. Case in point – Architectural Digest magazine was looking beyond politics when they declared "Wood accents, clean lines, and an all-white palette make this space instantly pinnable". Regardless of what side of the aisle you are on or whether you watched the Democratic Convention a few weeks ago, everyone in the design community has been buzzing about the kitchen featured in Hillary Clinton's intro video.
What made the kitchen stand out, why did it capture everyone's attention, and why did it look strikingly familiar? First and foremost, it was a beautiful kitchen bathed in the most amazing natural light. It was perfect. The all-white cabinets, butcher block counter, and black framed mullioned windows are timeless, tasteful, and contemporary. The kitchen visually reinforced attributes emphasised in the video. It was as if the kitchen were a set and the set happened to be one of our favorite movies. Architectural Digest suggested it looked straight out of a Nancy Meyers movie.
Nancy Meyers is a living legend when it comes to set design. Her movies are some of the most gorgeous and hilarious – Father of the Bride, It's Complicated, Something's Gotta Give, and The Intern come to mind. She creates sets that feel straight out of heaven. She harnesses the power of design to help narrate a movie. It is like her sets become the third character in the scene.
Scandal and Grey's Anatomy creator Shonda Rhimes created Hillary Clinton's video and the question on everyone's mind is whether this was a scene scouted for the cameras or was this her actual home. All we know is we love using interior design to gesture who we are. We love projecting our client's values, lifestyles, and taste through design, finishes, and materials. We've never thought of it this way but it is true, we design the backdrops of our client's lives and we couldn't be happier or more proud to serve!
---