When looking for ways to update your kitchen, there are two big-ticket items to consider: countertops and cabinets. Both help define the look of a space and drive the budget for the renovation project. Cabinets determine how your kitchen will function, especially when it comes to storage and although each year brings new cabinet trends — this year, we are seeing more color and less upper cabinetry — most cabinet styles don't come and go as quickly as trendy colors and knobs do. Plus, it is our belief at Beth Haley Design that anything you love is always in style.
The kitchen should be a welcoming and functional space that pulls double duty as an entertainment destination and a place to stash the endless snacks, storage containers, and dishware you inevitably collect. When it comes to cabinetry, there is something to suit every kitchen style and personal preference. Most importantly, there are storage solutions for every type of homeowner: the home chef, the takeout guru, the young pastry chef, and the short-order cook who specializes in cutting the crust off sandwiches.
Let's take a look at some favorite Beth Haley Design kitchen renovation projects that all have one thing in common.
Don't be afraid to mix and match cabinetry styles in your kitchen. Here, there is a combination of cabinets with glass and wood fronts. The glass doors reveal well-styled shelves while the closed cabinet doors hide the rest.
Although many homeowners opt to forgo upper cabinets for a more open design, we believe in maximizing your storage options. You can incorporate upper cabinetry without sacrificing a light, airy look. This kitchen proves our point.
Open shelving is a tricky style to master because it puts your belongings on constant display. Even if you don't think you can keep your open shelving organized and ready for viewing, you don't have to forgo the open look altogether. Pair a few open shelves with traditional cabinetry. Added bonus if your chairs complement your wood shelving.
Hardware is the cherry on top of beautiful cabinetry, and in this kitchen, gold handles create a nice contrast to the white cabinets and island. Creating contrast is essential in warming up a white kitchen, and hardware is an excellent place to start. A statement hood and stand-out island don't hurt, either.
Yes, painted cabinetry is a trend we have seen more of in recent years, but it can also be a look that stands the test of time. The key is selecting a paint color you won't grow tired of. Blues and greens are fail-proof options for the kitchen.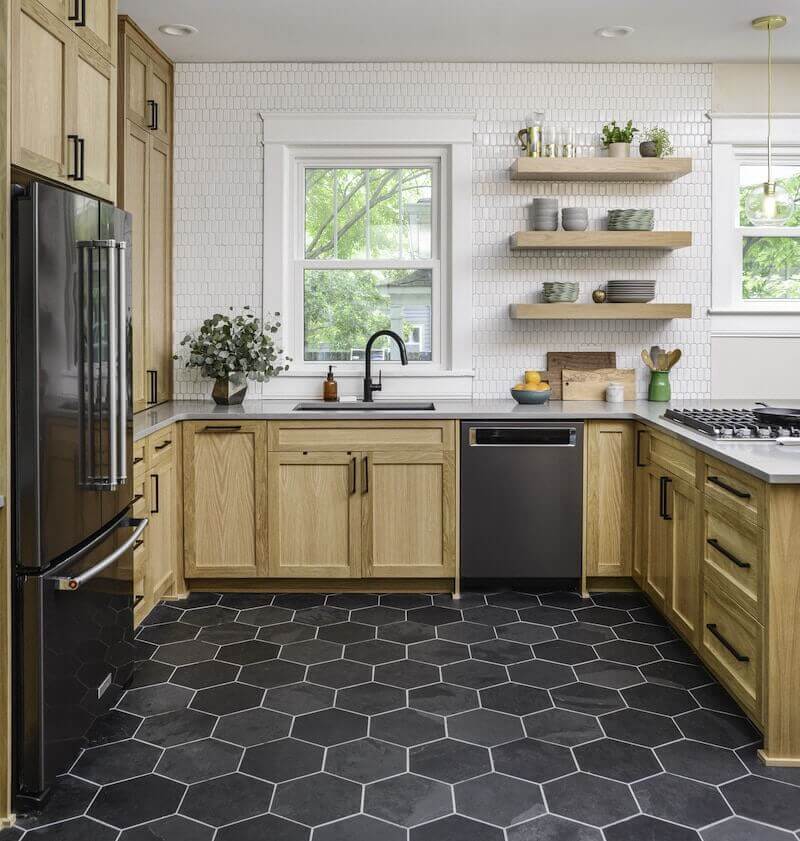 If you've been a fan of Beth Haley Design for some time, you know our affinity for natural materials. Whether you favor a sustainable approach or prefer a rustic look in your home, natural wood cabinets can help you achieve your dream design.
Selecting the right cabinets for your kitchen can be tricky, so don't be afraid to ask for help! We are only a call or email away.
——––
Discover more of our blog posts here. We cover everything from choosing art to bathroom and kitchen remodels to colorful design ideas.