In these final weeks of 2019, we are taking an opportunity to reflect on the incredible year we had at Beth Haley Design and showcase standouts from the year's long list of projects. "We have been lucky enough to work on such a vast array of projects in 2019 — from a simple house refresh to a condo renovation to a new build," Beth says. "Our interior design team has worked with first-time and longstanding clients who have varying tastes and styles. Overall, we continue to see a rise of color in the kitchen, the use of natural materials, and pops of blue."
Beth continues, "I am lucky to have a career as an interior designer in Nashville and to help our clients solve problems in their homes. This year, as always, I was able to work intimately with people and expressing my creativity in projects big and small."
Let's take a look at a few of those projects!
Washed in Blues
Beth applied blues and cool neutrals to every space in this quaint cottage during a whole-house redesign; the result is a calm and tranquil vibe. The super-pale shade of blue on display in the office (pictured above) carries through into the dining room and kitchen, as well as the bedroom.
First Neutrals, Then Color
The impressive foyer in this impressive home introduces an inspiring, exciting interior design. Fun fixtures, fabric on the decorative seating, and contemporary art first catch your eye. Overall, this space is neutral in its color palette, but unexpected pops of color are discovered as you continue to move through the home — pink walls in the office/laundry room, blue accents in one bathroom, and purple in another.
Organic Elements Everywhere
Natural textures instantly transformed this living room into a peaceful retreat that borrows interior design elements from a California contemporary narrative. Beth's designs are beloved because they are easy-going and cool but also sophisticated. Case in point: this living room.
A Much-Needed Makeover
Once dark and cramped, this kitchen lacked functionality and good design. The entire 1990s home received a radical transformation that started in the kitchen. Beth Haley Design's Stefani Benson tackled the project and delivered a design that replaced a dated layout with a modern look. We adore this muted-blue cabinetry.
READ MORE: Before and After: 4 Rooms Receive a Modern Makeover
Simple + Stylish
Clean lines and color contrasts impart a standout contemporary interior design style in this kitchen (and the rest of the home). Blonde wood pops against the various shades of gray in the kitchen, laundry room, and bathrooms. Mostly void of color, the home is not without interest.
Copper and More Copper
Perhaps this year's most interesting client when it comes to personal style, the homeowner of this two-story home craved texture and pattern. In the bathroom remodel, a copper backsplash showcases both. Between the countertop, sink, backsplash, and exposed pipes, we can't determine a favorite piece of the interior design. Thankfully, we don't have to.
Bright White and Bright Blue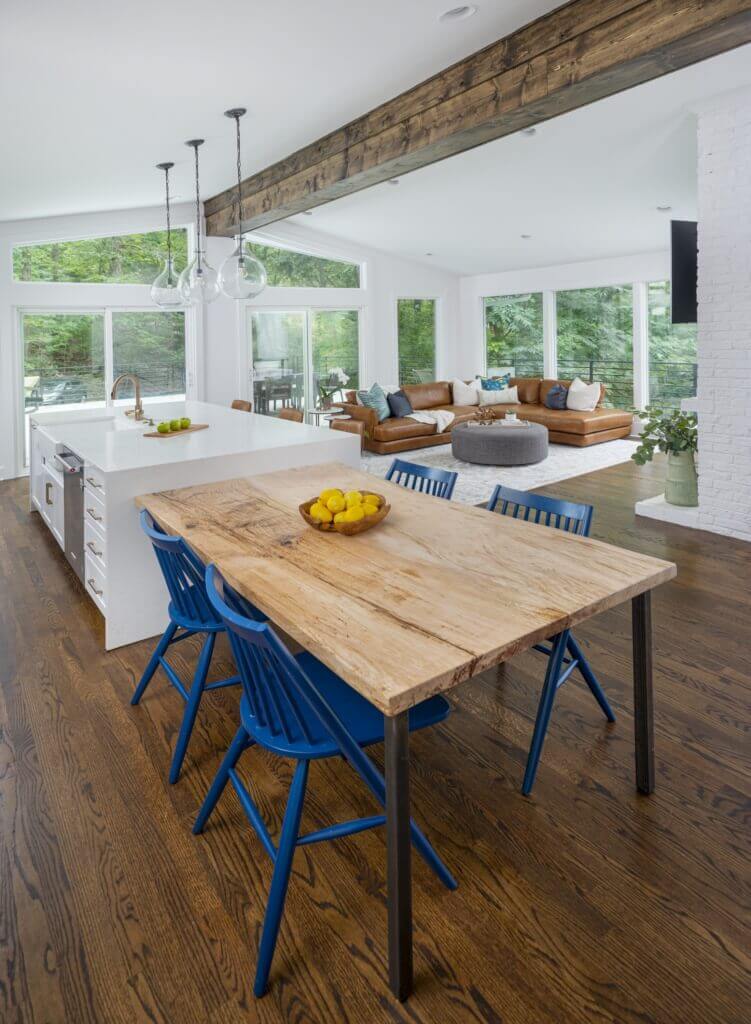 Bright blue chairs give oomph to this all-white space. The blue chairs, a wooden beam, and leather couch are welcomed accents that sit smartly against the crisp white backdrop of this open-concept kitchen and living room. The large windows make the outdoors part of the design, too.
On behalf of Beth Haley and the entire Beth Haley Design team, we thank you for a wonderful year. See you in 2020, Nashville!
---
Discover more of our blog posts here. We cover everything from color to coffee table books to functional interior design, and we can also help you discover your design style.
Follow us on Instagram for more design inspiration!