Lower temperatures outside mean more opportunities to cozy up with a cup of hot cocoa (or in Beth's case: a cup of tea) inside. Building a fire is a surefire way to create the warm environment you want during these cooler days of fall and winter. This time of year, your fireplace becomes more than a place to put your art; it becomes the focal point of your space for the remainder of the season. When it comes to interior design, the fireplace is the most inviting and practical addition to your living space. Curl up on the couch and take a look back on a handful of Beth Haley Design projects that incorporate fireplaces.
Meet modern design in this chic living area where crisp whites pair with bold touches of color. All-white spaces can be construed as cold, but this space is anything but. A gold frame keeps the fireplace, which blends into the design, from disappearing altogether.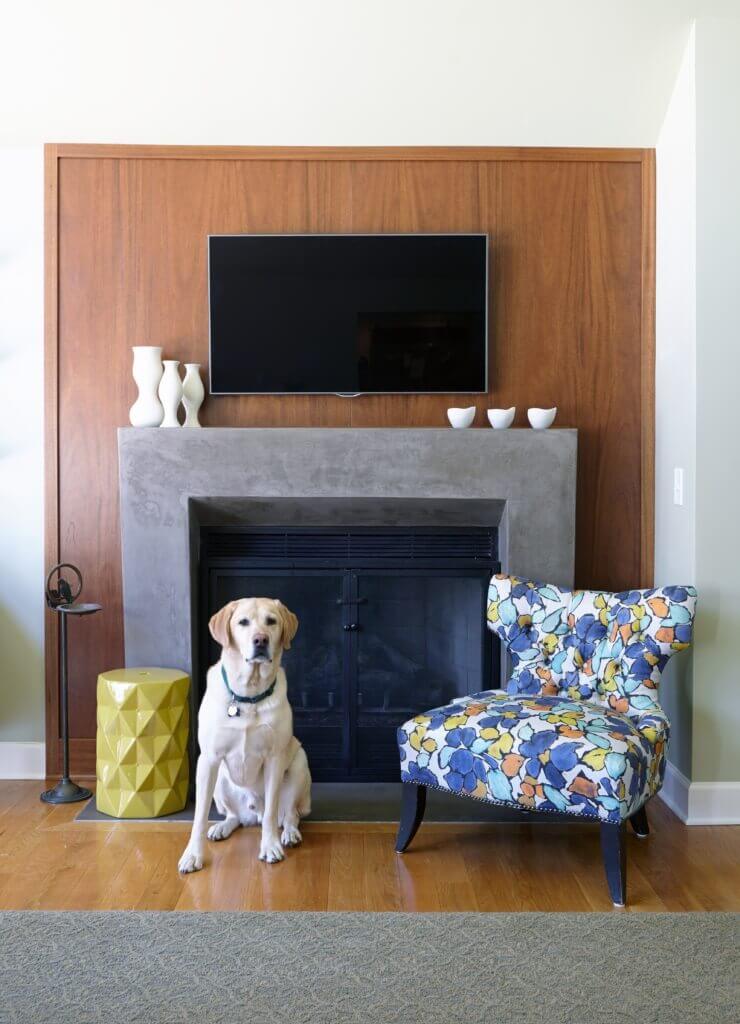 A modern take on fireplace design, this particular one includes a stylish concrete mantle. a funky chair in a playful pattern (and the dog, of course) soften the simple, contemporary lines. Also, the accent wall behind the fireplace really makes it a focal point in the room.
Built-in shelves frame this fireplace, which boasts a more traditional design. Although the furniture is arranged around the fireplace, it doesn't take center stage as the focal point of the design. It fits nicely within the space without standing out.
A fresh coat of paint turned this dated fireplace into a work of art, but it is the yellow accents that first catch the eye. Note how the white pops against the dark, rich hardwood floors. Now, envision it with a blazing fire. A lovely image, isn't it?
---
Have you built your first fire of the season? There is no time like the present to get your fireplace ready!
——––
Discover more of our blog posts here. We cover everything from color to coffee table books to functional design, and we can even help you discover your design style.